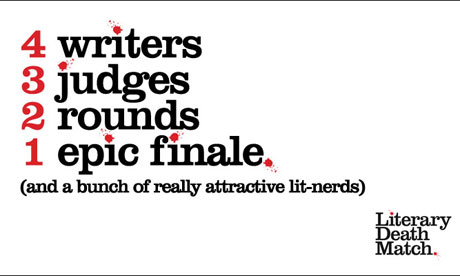 Todd Zuniga, creator of Literary Death Match, tells us about an event which marries literature and comedy coming to Cardiff tonight. Sound good? Read on.
Nine months ago, Mab Jones — the dazzlingly talented John Tripp spoken poetry audience prize winner — started to follow the Literary Death Match
twitter feed.
Next to her Twitter handle was the word "Cardiff."
Then the endlessly-talented
Susie Wild
(author of The Art of Contraception) started following. Two was more than enough, and I fired off an eager 'hello', saying I'd love to bring
Literary Death Match
to Wales, a country with a seriously rich literary history (the
Hay Festival
, Laugharne Weekend, Dylan Thomas). They both wrote back saying it was a must. Fast-forward nine months:
Tuesday night (10 May)
at Cardiff Arts Institute marks the first-ever Literary Death Match in the City of Arcades. And if our five-year history has taught me anything: it'll be a can't-miss night that'll go down in Welsh literary history.